Thursday, November 26, 2015
The Razor Helmet Mounting System is very easy to use and holds the light very securely so that it cannot be knocked or fall out which is a major issue with C clip style holders especially in true sm cave.
The helmet mounting plate has a very low profile which is also great for super small areas.
Last but not least the best feature of the new RHMS is the option to change the angle of the light head through 170 degrees so you can always point the light exactly where you want it and you no longer have any excuse for blinding you buddies.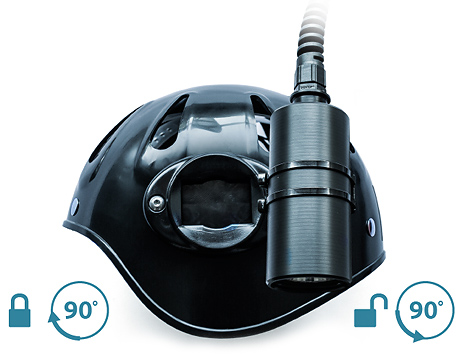 The Razor Light Holder

The new patent pending Razor Light holder brings a new dimension on your helmet -

a streamlined one.

You can easily attach the light head to it and lock it in place with a 90° turn.
The Razor Light Holder

You can fine adjust the angle of the light head on your helmet. This is very helpful in a lot of situations:
- Laying the primary reel
- Pointing the light down as not to blind your buddy.
- Adjust the light head in narrow passages depending on your head position.
- Pointing the light head 180° to the back to face your buddy not blinding him/her while doing something.